BAR TURNING AND MECHANIZATION
At EM-DECOLLETAGE® we are dedicated to the machining of precision parts in series (bar turning). Our parts can be found in any industrial sector that requires quality parts.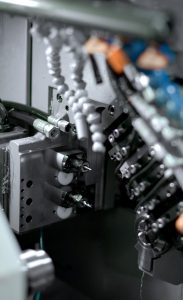 Machining is based on the transformation of the original raw material (metals, plastics, wood, etc.) to form specific parts through processes such as material removal, abrasion, electro-erosion or other forming methods without material removal ( bending, rolling, forging, drawing, sintering, etc).
Bar turning refers to a manufacturing field in which parts of revolution are machined by extracting material from metal bars using a cutting tool. The pieces are machined in small, medium or large series on conventional automatic lathes or with numerical control. They are machined one after another on the bar, with the aim of achieving high productivity and precision, seeking to produce the least number of chips possible.